Infrastructure-Commercial Vehicle ITS
While commercial vehicles can utilise all infrastructure based ITS, this class of vehicles has an additional set of requirments that can be serviced by Infrastructure>vehicle ITS
In respect of Standards for some of these services CSI has been at the forefront of Standards development. You may want to link to these on the following link
Border Clearance
In-vehicle equipment can communicate with customs check points to pre-screen trucks for safety records, border clearance, and proper credentials. This can be initiated on the highway, before the truck reaches the border control point to obviate the need for real time clearance at the control point, thus reducing processing delays and queues at the border. The information is transmitted via an ITS communications interface.
Commercial Service Payments
Commercial vehicles are often subject to payment demands in addition to toll and road pricing. These may be payments at the border, parking etc. The advantage of using ITS systems for border clearance etc is lost if the vehicle has to stop for the driver to make payments. ITS systems, linked to payment cards or accounts can automatically extract payment in the same manner as road toll payment. Such payments do not all have to be real time transactions (as with tolling) and may be part of pre-clearance.
Other commercial services for both commercial and private traffic can be provided using ITS communications systems, examples may be fuel purchase, drive through food purchase, amusement park entry, parking charges etc.
I
Freight and Fleet Operations
This function covers three elements
- Road Freight Transport demand management,
- overall Road Freight Transport supply management,
- permanent management of individual supply components so as to satisfy demand

and can be split into four high level functions:
- Organize goods movement,
- Manage carriage operations,
- Manage resources,
- Manage hubs.


These functions can be supported using ITS technologies to provide the means of managing commercial and operational freight transport operations .If necessary, goods may also be stored at certain points along a route in order to optimise operations or to change to a different mode of transport.

The function includes using ITS communications to manage operations relating to the management of a vehicle fleet and human means required for goods transportation. This includes the planning and specification of driver tasks and vehicle maintenance.
National security requirements and the management of safety and emergency services may also be included so as to enable the provision of information linked to the transportation of hazardous goods.
Travel Planning, route guidance and performance against plan can also be monitored/managed and techniques such as such as weigh-in-motion or driver alertness monitoring incorporated and some circumstances regulations can be electronically enforced.
Drivers Daily Log
ITS can be used to collate and transmit drivers daily log and tachograph information. The information is transmitted via an ITS communications interface.
Driver Validation
ITS can be used for driver validation without which the vehicle will be prevented from operating. This may simply work using an access smartcard, or may compare data on a smartcard or central database (using ITS communications link) to verify driver biometrics such as fingerprint. The information is transmitted via an ITS communications interface.
Route Guidance
Route guidance is achieved by an on-board processor and display, combined by triangulation from three or more GNSS satellites (such as GPS (NAVSTAR), GLONASS and Galileo). These constantly transmitting signals are triangulated by the on-board equipment to provide location. The more satellite signals that are visible, the higher the accuracy. The new generation Galileo system claims to be more precise than other systems used for non military purposes. On board equipment is therefore a passive radio receiver and processor with maps contained in memory.
Enhanced Route Guidance and Navigation
Increased positioning capability due an increased number of satellites, as envisaged in the Galileo programme.. To assure continuity of localisation in covered or dense urban environments, links to additional equipment such as odometers, or gyroscopes are used .Higher power levels emitted from satellites will allow for better penetration of the signal inside the vehicle.
Dynamic integration of current road traffic information can be combined with the static geographical map data to provide best routes for the specific journey which combined with the technical improvements to accuracy provide enhanced route guidance and navigation. The information is transmitted via an ITS communications interface.
Just-In-Time Repair Notification -Safety
Just-in-Time Repair Notification is described below as a commercial service between vehicle user and vehicle maintenance service provider/manufacturer. However, as more and more of vehicle operation is computer controlled, the possibility of the incident of safety critical software defects increases. Traditionally this has led to the commercially embarrassing, and expensive, recall of whole model ranges. Automotive manufacturers can use the ITS communications link to provide safety critical software updates, performance and efficiency updates, and to provide notification where service visits are required and arrange these on a just-in-time mode.
Optimal Speed Advisory
Provision of advice from data held within the vehicle and additional data and congestion information collected from via the infrastructure to maximise fuel efficiency set against driver provided parameters and achieve arrival targets. Usually combines satellite navigation and congestion information for a determined route with information from the engine management system. The information is transmitted via an ITS communications interface.
Transit Vehicle (Public Transport) Refuelling Management
In order to prevent theft, Transit (Public Transport) vehicle refuelling is an administratively heavily supervised and documented process. The ITS communications link can provide regular updates on consumption/mileage driven and either direct ITS communications, or RDID linked to ITS can be used to authorise, release and measure the amount of fuel released and feed this information into a fuel management and control system.
Transit Vehicle (Public Transport) Data Transfer- Commercial
Transit (Public Transport) vehicles are increasingly monitored for both safety and commercial reasons. Safety issues have been described above. Vehicle performance and driver behaviour; adherence to timetable; passenger information systems updates, and priority at crossings can also be provided using an ITS communications link (RFID in earlier generation systems). Maintenance optimisation and maintenance request and software downloads can also be provided using an ITS communications link.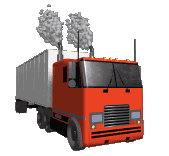 Vehicle Emissions Monitoring
Early generation on roads vehicle emissions monitoring initially used vans with sensing equipment to record and photograph offenders. Current generations are tending to use roadside or over road monitoring combined with an RFID tag in the vehicle, both to identify the vehicle accurately, and also report the date of its last safety and emissions check and certification. Later generation will tansfer this data via an ITS-station.